Public Governance Programme
Regional Conference: Combating Corruption in Infrastructure Projects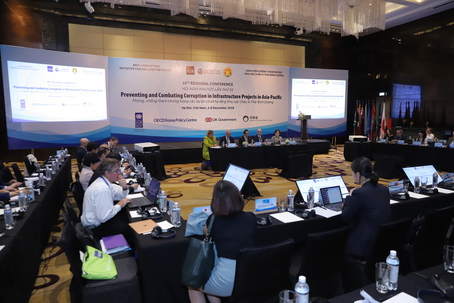 The Public Governance Programme of the OECD Korea Policy Centre, in partnership with the OECD, ADB, Government of Viet Nam, UNDP, UK Government and Ministry of Foreign Affairs of Japan, supported the 10th Regional Conference of the Anti-Corruption Initiative: Combating Corruption in Infrastructure Projects.
The Conference took place on 3-6 December 2019 in Ha Noi, Vietnam and brought together experts of the region to address corruption in infrastructure projects during the 1) Business Integrity Meeting 2) Public Integrity Network and 3) High Level Segment.
The Deputy Prime Minister of Viet Nam and Deputy Secretary-General of the OECD were among the key speakers, sharing valuable insights and directions for the future efforts on anti-corruption in infrastructure proejcts.